In India people still comes with conservative minds and weird thinking which keeps the people in the shades. Infertility is not a curse and can be managed with the help of advanced science and innovative techniques. There is nothing to feel ashamed about getting infertile because it is a natural process and happens due to many reasons. The percentage of infertility is rapidly increasing all over the world as well as in India. Fast lifestyles and unhealthy schedules are some of the basic reasons behind such issues. But now these issues are not that big to advanced science & technology. There are many test tube baby process centers in Siliguri, provides IVF treatment.
IVF treatment is not new to this world because it was known to this world before 40 years. On July 25, 1978, Louise Brown was born and she was the first test-tube baby as claimed by the records, though some of the mythological stories speak about such miracles where babies are created outside the mother's womb. Before searching for the best IVF centers, you must know about the process undertaken by this treatment.
Test tube baby process
IVF stands for In Vitro Fertilization in simple words it is the process where matured eggs from a woman (might be an original mother or a surrogated mother) are removed through the 'Egg retrieval' process and kept in a glass or vitro. The egg is then introduced with the high motility sperm taken from a fertile father or a donor. Then the IVF specialist keeps the sperm and the eggs for the further process inside a laboratory under regular observation. This process is called 'Embryo development'
and the '. When the embryos come out inside the glass tube, then the actual process begins.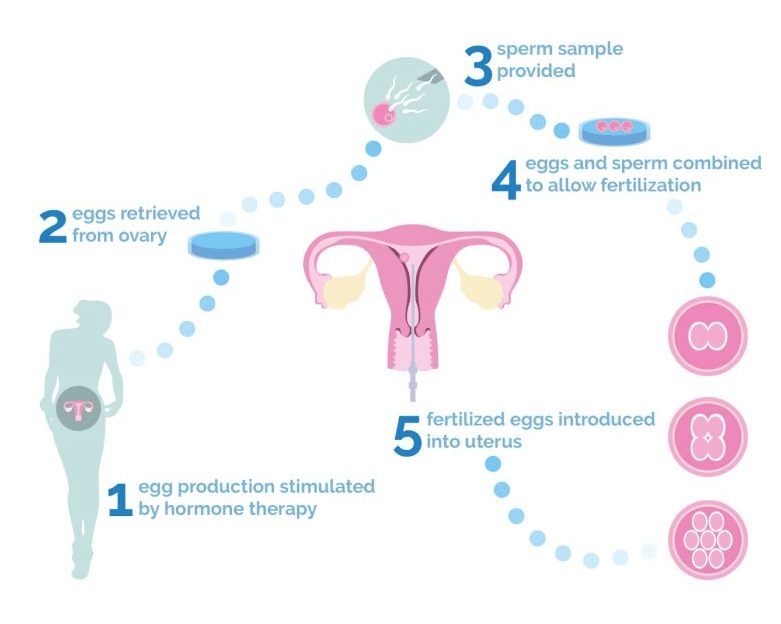 More than one embryo is placed inside the woman's ovary under the supervision of specialized doctors which is called 'Embryo transfer'. Transferring more than one embryo actually increases the chances of development. Approximately two weeks after your embryo transfer, you'll have a blood test to measure your levels of the hormone HCG (human chorionic gonadotropin). HCG in your bloodstream usually means a positive pregnancy test. When pregnancy happens you need to be careful and dedicated towards the advice given by your doctor. This is an emotional process so you need to be happy and healthy for the best possible results instead of doing any negligence.
Best Centres in Siliguri
Ramkrishna IVF Centre
Address: 52, Nazrul Sarani, Ashram Para, Hakim Para, Siliguri, West Bengal 734001
Contact: +91- 98007 11112
Doctors: Dr. Esha Sharma and Dr. Rituparna Das
Creation - The Fertility Centre
Address: Burdwan Rd, Ward 4, Mahananda Para, Siliguri, West Bengal 734001
Contact: +91- 94347 45088
Doctors: Dr. Madhav Chandra. Das, Dr. Sindhu Bala, and Dr. Trina Karmakar
Newlife Fertility Centre
Address: 2 nd Floor Homeland Business Centre, Opposite Mahindra Showroom, Near Vega Circle Mall, 2nd Mile, Sevoke Road, Siliguri
Contact: +91- 740740 0333
Doctors: Dr. Prasenjit Kr. Roy and Dr. Shefali Bansal Madhav
Care IVF Siliguri
Address: 2nd Floor, Mitra Nursing Home, Tilak Road, Hakim Para,, Siliguri, West Bengal 734001
Contact: +91- 76686 66633
Doctors: Dr. Rajeev Agarwal, and Dr. Dorothy P. Ghosh
Genome - The Fertility Centre
Address: City Centre, Block-F, Ground Floor, Behind Volkswagen Showroom, Uttorayon, Siliguri, West Bengal 734010
Contact: 0353 305 3300
Doctors: Dr. Indranil Saha and Dr. Sujoy Dasgupta
Nurture Advance Fertility Center
Address: 1st SMARAN Tower Burdwan Road beside Howrah Petrol Pump, Siliguri, West Bengal 734001
Contact: +91- 98320 31866
Doctors: Dr. Sima Roy and Dr. Malay Roy
Family Clinic - IVF Center
Address: 3rd Metro Heights Savoke Road DON Bosco, More, Siliguri, West Bengal 734001
Contact: 0353 254 5544
Doctors: Dr. Kavita Mantry (Mundra)
IVF centers or Test Tube Baby process centers in Siliguri are available in your city to bring a smile in your face in terms of making the dreams into reality. To achieve success in this treatment all you need is a good mood and positive vibes along with a healthy diet plan. To prepare your body for the right IVF treatment, doctors recommend Fresh fruits, vegetables, lean protein, healthy fats, whole grain, legumes, and low-fat dairy products.
---