IVF is a boon for those couples, who find it difficult to get pregnant. A few years back, IVF was not a familiar term in the Indian Market. People just knew about test tube babies, which was a process of getting pregnant for infertile couples.
With the passage of time, IVF has become a common term in the Indian scenario. Nowadays, most of the couples those who are not being able to get pregnant through natural processes, take the help of IVF.
As IVF is gaining popularity among Indian couples, many fertility hospitals are emerging these days.
Here is a list of the best IVF Hospitals in India:
Delhi IVF and Fertility Center, Delhi:
It is in the heart of the country and is one of the best fertility centers. Its goal is to help its patients get quality treatment so that they cure their infertility and enjoy their fertile life.
Address: Todar Mal Lane, Mandi House, Delhi-110001, India
NewLife Fertility Center, Siliguri:
This is one of the best fertility centers in North Bengal, India. It has all the latest medical equipment and facilities to treat the patients really well.
Address: 2nd Floor HomelandBusiness Center, Opposite Mahindra Showroom, Near Vega Circle Mall,2nd Mile Sevok Road, Siliguri
Iswarya Women's Hospital and Fertility Center, Chennai:
This is a well-known fertility center in Chennai. It has the best doctors, the best equipment and the best medicines to treat infertility.
Address: 1st Main Road, Kasturbai Nagar, Chennai, tamil Nadu 600020, India.
What does the patient go through during IVF treatment in these hospitals?
We don't like beating around the bush. Let's come straight, IVF is a complex process, it does involve some complexities. Sometimes IVF is a success in the 1st attempt whereas IVF fails in some cases.
However, couples do not need to get disheartened if the process fails at the 1st instance. Couples need to mentally very strong to get into the processes of IVF.
Some of the good IVF centers in the country provide counseling to the patients before starting the processes. This helps them understand what they are going to face and how to tackle with complexities. 
Therefore, the infertility specialties are playing a great role in handling the patients both emotionally and physically.
When should you go for IVF?
IVF means being fertile through the processes of medical science. Medical science is improving, and nowadays it has a solution for almost every medical condition.
However, natural processes are always the best. Try for a year or two to get pregnant naturally. If it does not work out, then go for IVF.
Here is a table showing the success rate of IVF in different age group:
| | |
| --- | --- |
| Age | Clinical Pregnancy Rate |
| Less than 35 | 71.4% |
| 35-37 | 45.8% |
| 38-40 | 25% |
|   |   |
What is the Cost of IVF in India?
Different IVF hospitals in India charges differently for an IVF treatment. However, we have tried to produce in front of you a chart that will explain the cost of different procedures involved in IVF.
Here you go,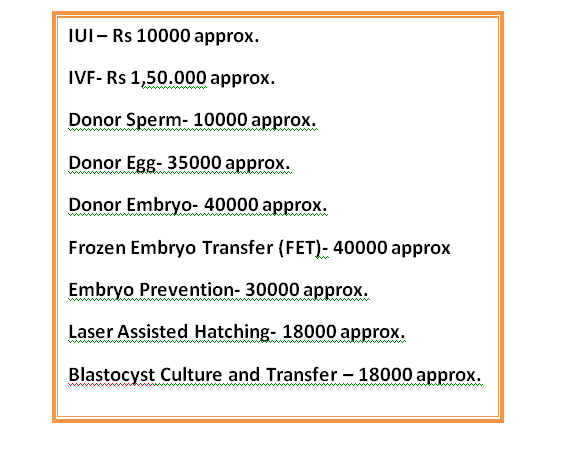 The Final Words:
IVF is a boon and you should not take it otherwise. It does not point out your problems rather sort it out. So, be free to show a doctor if you feel you are not being able to fertilize in the natural processes.
IF YOU HAVE ANY QUERIES, DO COMMENT BELOW AND WE SHALL TRY TO ANSWER YOUR QUERIES SOON!
---